Golden Piano Tuning - Columbus Ohio
Piano Tuner / Piano Tuning – Columbus Ohio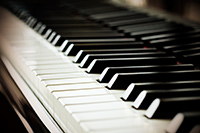 Piano tuner, Bill Golden, of Golden Piano Tuning, offers quality piano tuning throughout the Columbus, Ohio and Central Ohio areas. Based in Westerville, Bill has been a piano tuner for more than 30 years. Bill is what's called an aural tuner (tunes pianos by ear) and has tuned pianos in the Columbus and Central Ohio area since 1979. Bill was first schooled in the art of piano tuning in 1979 by his piano tuner uncle, Nolen B. Golden.
Bill has tuned pianos for The Ohio State University and Ohio Dominican University, both located in Columbus, Ohio. He has also tuned pianos for the band, Dashboard Confessional, and for British band, Keane. In addition, Bill has tuned in a variety of recording studios, including the private recording studio of a famous musician who once started a band containing the word, Dominos.
If you are ready for a piano tuning, request your tuning now. Or, learn more about the benefits of having your piano tuned, as well as Bill's piano tuning process and pricing.
Bill is very easy to find on the Internet. In addition to this website, you can find him on Facebook, Twitter, YouTube, and Pinterest.
Contact Bill today to request your piano tuning!
Golden Piano Tuning – Columbus Ohio Service Area
Bill tunes pianos in Westerville, Worthington, New Albany, Minerva Park, Lewis Center, Galena, Sunbury, Delaware (south of town), and areas surrounding Westerville in Central Ohio.
Bill's Service Area includes locations within a 20 mile round trip from Westerville, OH. Locations greater than a 20 mile round trip from Westerville, OH, will incur a trip fee.
——-
Bill's Service Area no longer includes the locations listed below, but he can connect you with an excellent piano technician who will meet your piano tuning and/or repair needs! Contact Bill for assistance.
Bill no longer offers piano tuning services in German Village, Whitehall, Pataskala, Valleyview, Brice, Briggsdale, OSU, Victorian Village, Olde Towne East, Italian Village, Bexley, Blacklick, Canal Winchester, Circleville, Clintonville, Dublin, Powell, Commercial Point, Darbydale, Gahanna, Galloway, Grandview, Granville, Groveport, Grove City, Hilliard, Johnstown, Lancaster, London, Marion, Marysville, Mt. Vernon, Newark, North Columbus, Obetz, Orient, Pickerington, Plain City, Reynoldsburg, Upper Arlington, Urbancrest, Valleyview, West Jefferson.