Golden Piano Tuning - Columbus Ohio
Piano Assessment – Process And Pricing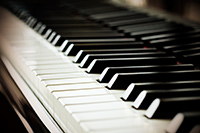 Are you thinking of selling your piano that is no longer bring used? Are you looking to buy a piano but want to be sure that it is a good value? A piano assessment may be what you need!
Here are some things that may be part of a piano assessment:
– Inspect wood finish for damage
– Inspect keys for level and wear
– Inspect pins for proper tightness
– Inspect soundboard (top and bottom)
– Inspect strings for rust and wear
– Inspect hammers for alignment and wear
– Inspect responsiveness of keys
– Inspect pedals
– Determine deviation from correct pitch
– Take photos of piano
– Deliver inspection report to customer
Bill no longer offers this service, but there are plenty of other piano tuner/technicians who do. You'll find them on the Internet!