Golden Piano Tuning - Columbus Ohio
Piano Selling Tips For Selling Your Piano The Right Way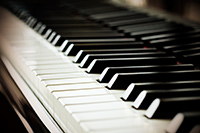 If you have a piano you wish to sell, consider these pointers.
Clean up your piano
Wipe the finish with a soft, damp cloth and then dry the finish. Don't use oils or polishes and never spray anything on or around the piano. Clean the keys with a cloth and a warm, mild soapy solution. Pull the cloth toward you as you clean the keys.
Determine a fair value for  your piano
Search the internet for similar pianos for sale. Go to local piano stores to get a feel for piano pricing. There isn't a very large price range for most basic, used pianos, but you still want a point of reference. Bill offers a Piano Assessment service that can help you establish a fair asking price. Contact him if you are interested.
Determine your piano's pitch deviation
If you have a smart phone, get a guitar tuner app, such as Waves for Android phones, and determine how close your piano is to the correct pitch. Here are a couple of apps to try:
[Andriod Waves Tuner App]
[iPhone Gibson Tuner App]
If your piano has severely dropped in pitch (30% or more), you may help your sale by having the pitch raised. There is a fine line between spending too much on the piano prior to selling it and selling it when it sounds horrible, but it depends on your asking price.
Advertise your piano
CraigsList is a great place to advertise your piano for sale. Be sure to include photos of front view, side view, keyboard, and if you can, raise the lid and get a photo looking inside. Include all the helpful information you can, such as a) do all keys play, b) when it was last tuned, is there anything that does not work or is missing, broken, etc. Honesty is the best policy! You may also use this Golden Piano website to tell others about your piano. You want to get the word out to as many places as possible. Contact me and I will post your information on Facebook, Twitter, Pinterest, and my Blog page.
I'm ready to sell my piano
Complete this form if you want Golden Piano Tuning to help you sell your piano. NOTE: You must include at least one photo. (Central Ohio only, please)
Thank you!
Follow me!