Golden Piano Tuning - Columbus Ohio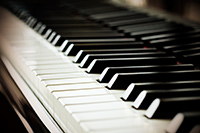 Here's what others are saying about Golden Piano Tuning:
Beautiful job!!!! Best tuning I have had in years. Many thanks!
Bill has been tuning my Baby Grand for quite a few years. He is always prompt to arrive, and extremely courteous and professional while he is here. His tuning skills amaze me (and truth be told, one of my favorite parts of the appointment is his playing once he has the piano sounding great again when he is finished). He even took the time to tune my son's old piano while it was sitting in our garage before being shipped to Seattle (per my request. I knew it wasn't the best tuning situation, but Bill explained what could be done, and he still went beyond my expectations). I highly recommend him for all of your piano tuning needs!
Goodness! What a nice sound I'm hearing from my piano! Thank you for doing a great job!!
Many piano tuners these days tune with electronic devices. While this approach may produce a sound that is mathematically correct, in my opinion it loses some musicality and even risks reducing tuning to a mere technology. It's increasingly rare to find someone who tunes strictly by ear and I think being able to do this gives Bill an edge over other tuners. Over the years he has developed an ear for how the instrument should actually sound – to me this is the real art of tuning a piano.
I have a daughter that loves to play her piano. I know nothing about music, but I have learned thru her that the tuning on the piano is as important as her lessons. Because we have kept the piano tuned, she is able to pick up music by just listening. The tuning has been an important part of that. And that is something that will be with her the rest of her life. Thank you, Mr. Golden, for helping us to see how important this is.
Bill has tuned not only my two personal pianos but also our church piano, many times. His work is excellent, he is an expert, always professional. I would not trust my pianos to anyone else!
Thank you for tuning my piano. It sounds great — the best it has ever sounded!
The piano sounds great and we are ready for Christmas singing with the family. Thank you so much!
Thanks for doing such a great job on our piano!
We have a very old baby grand piano that was in my wife's family for years. Bill has been tuning it for us since we had it moved to our home. His in depth knowledge of pianos has brought it back to life!! We have it tuned every six months because of its age; and it sounds great. Highly recommend him.
Prompt, clean, trustworthy, ethical, skilled, pleasant, competitive pricing, quick and easy to schedule. What more could you ask for!
Bill has been tuning my upright baby grand for about 3 years now. He does an excellent job and I recommend him to others often.
Bill has been tuning my piano for many years. He is prompt, friendly and courteous. When Bill first came to tune our piano it had not been tuned for several years and when he was finished it sounded like a new piano. He is always good about sending us emails every 6 months to remind us to schedule our piano tuning. We are very pleased with his work and we highly recommend him!