Golden Piano Tuning - Columbus Ohio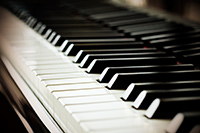 Pianists!
Looking for a pianist to play at your upcoming wedding, party, or other event? Here are some excellent piano players in the Columbus Ohio area who offer a wide selection of piano music for your enjoyment!
FEATURED COLUMBUS OHIO PIANISTS
Kevin Gault
– Piano, organ, voice, guitar
– Wedding ceremonies
– Cocktail hours
– Corporate events
Dave Nilo
– Plays a wide variety of music
Questions about your piano? Contact Bill today!