Golden Piano Tuning - Columbus Ohio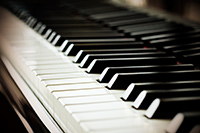 Here is an overview of piano services offered by Bill Golden, Golden Piano Tuning.
Bill tunes all makes and models of pianos, including spinets, consoles, studios, uprights, baby grands, and concert grands. Piano tuning charges can vary, depending on they type of tuning and location. [Pricing Information]
Sometimes a piano has been neglected and the pitch of the piano has dropped considerably (typically, a 25% drop in pitch will require a pitch raise). This would require a pitch raising before it can be tuned. If the piano needs a "pitch raising," additional sessions may be needed to get the piano into its top condition. It is also possible that a piano has dropped so far in pitch that it can only be partially raised toward the correct pitch. This typically occurs when a piano has dropped well lower than 100% in pitch. Bill can't know this for sure until he checks the piano in person.
[Why should I tune my piano on a regular schedule?]
Bill also does basic repairs a variety of the piano's working components, as needed. Sometimes pianos just need a slight adjustment here and there or even the removal of a foreign object, such as a coin or other unusual item. If piano repairs are more significant, Bill has someone who can help you out.
Bill is skilled at bringing your piano into proper musical condition so it will have a long and healthy life. Contact him today to schedule your piano tuning!
Assessment
If you are considering buying or selling a used piano, you may need someone to look it over and give you an assessment of the "sell-ability" of your piano or whether you are getting a good value. Bill no longer offers this service, but there are plenty of other piano tuner/technicians who do. You'll find them on the Internet!
Piano Age Information*
Piano Serial Number Search Information
Serial numbers are usually between four and seven digits long.
Where to Look – Upright
1. Lift the piano lid and look for a stamped or stenciled serial number up around where the piano strings connect to the "pins."
2. Look on the metal "harp" which holds the strings.
3. Look behind the piano anywhere on the wood framing.
Where to Look – Grand
1. Lift the lid and look on the metal "harp" for a stamped or stenciled serial number.
2. Look underneath the piano for a stamped or stenciled serial number.
Piano Value
If you are buying or selling a piano and want to get a feel for pricing a piano or a piano's value, check out these great piano research resources.