Golden Piano Tuning - Columbus Ohio
About The Piano Tuner, Bill Golden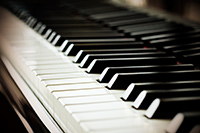 Piano tuner Bill Golden of Golden Piano Tuning lives in the Columbus, Ohio area (Westerville) and has been a piano tuner for more than 30 years.  He has tuned pianos in Columbus and Central Ohio since 1981.  Bill was first schooled in the art of piano tuning in 1979 by his piano tuner uncle, Nolen B. Golden.  Uncle Nolen was a lifelong musician, composer, and piano tuner who lived in Dayton, Ohio.  Ron Golden learned the trade from his Dad and continues a piano tuning practice in the Dayton, Ohio area.
Bill comes from a large family of piano tuners, musicians, composers, and singers from southwestern Ohio.  Many of his relatives play such instruments as piano, organ, harmonica, accordion, and guitar.  Others excelled as singers, both in groups and as soloists.  Bill has a cousin who was an opera performer in West Germany and South Africa for quite awhile.  His Uncle Nolen led the World War II Army Chapeliers, a singing group who performed throughout Europe and who also sang at General Patton's funeral.
Bill tunes pianos "by ear" instead of depending on a tuning device, a tool which can mislead a piano tuner if not properly interpreted or kept properly calibrated.  While either an "aural" or a "device" piano tuning method can produce a well-tuned piano, Bill believes that tuning a piano "by ear" achieves the ideal and most natural tuned sound for your piano.