Golden Piano Tuning - Columbus Ohio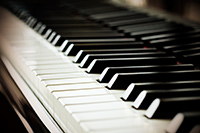 Residential Pricing
[Make Online Payment]
Bill charges $109.00 + sales tax for the initial piano tuning session (not including possible pitch raise – see below).
Tuning Frequency / Price (not including tax)
– Initial tuning / $109.00, plus tax
– Pitch raise* (an additional partial or full pass through piano on the same visit) / Additional $49.00 or $79.00, plus tax, depending on degree of pitch raise needed.
Payment Methods
– Venmo, GooglePay, and Zelle (Banks: Chase Quickpay, Fifth Third, KeyBank, PNC, USBank). No additional charge if debit card or direct transfer.
– Checks are accepted, payable to Golden Services, Inc.
– Cash is accepted. Bill does not carry cash to make change.
– Credit cards are accepted via Square or online via PayPal. A small surcharge is added for credit card processing.
* A note about pitch raises. If your piano has dropped around 20 to 30% or more from what is known as concert pitch (A 440Hz ), you will need a pitch raise. It is also possible that a piano has dropped so far in pitch that it can only be partially raised toward the correct pitch. This typically occurs when a piano has dropped greater than 100% in pitch. Bill can't know this for sure until he checks the piano in person.
If you have a smart phone, get a guitar tuner app, such as Waves for Android phones, and determine how close your piano is to the correct pitch. Here are a couple of apps to try:
[Andriod Waves Tuner App]
[iPhone Gibson Tuner App]
Follow me!